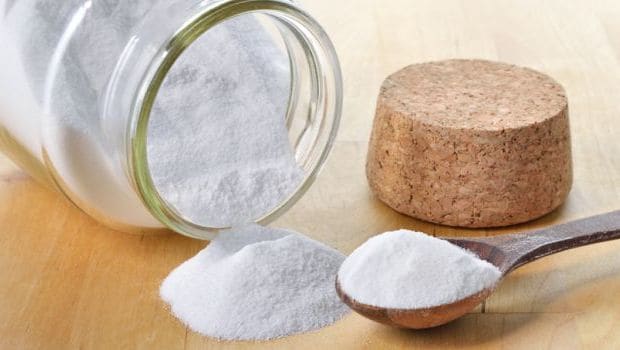 Baking soda is very useful in the kitchen for cakes, biscuits and other food and it is not only for cooking, it can also be used for cleaning. But do you now this common powder can also be used as a cosmetic product and natural remedy.
Baking soda is also a fantastic remedy to ease dark circles around eyes, in fact, if you pay attention to the declarations contained in some well-known cosmetic products, you will notice that many contain baking soda as the main ingredient. Here are some other things you can use baking soda for other than baking.
Peeling for the skin: You can easily make your own peeling for the skin, with baking soda and water, all you need to do is mix 3 tablespoons of baking and one tablespoon of water. Use this paste and slowly rub your face in circular motions, let it stand for 10 minutes on the face, and slowly rinse with lukewarm water and your skin will be soft, and in this way, over time you can get rid of blackheads and skin impurities.
READ ALSO: What To Pack For Your Honeymoon
Teeth whitening: It is well known that soda can help in teeth whitening, but if you know a good recipe you can save a lot of money, instead of buying expensive bleaching paste, mix one tablespoon of 3% hydrogen peroxide the same amount of baking soda and a pinch of sea salt. This mixture can be applied with a toothbrush, but since this is an abrasive, to avoid damaging the tooth enamel it is much better to apply it on each tooth individually with cotton swab, allow it stand for two minutes, then rinse your mouth. This should be repeated for three days in a row and so every month.
Brightening Skin: Want brighter skin? Mix baking soda with a tablespoon of lemon juice and a few drops of olive oil. After cleansing skin, apply this paste to your face and rinse after 10 minutes.
Pimple Treatment: Much like toothpaste, baking soda dries out pimples and removes excess oil. Make a paste with the sodium bicarbonate and a little water and apply to the pimple. Leave to sit for 15 minutes, then rinse off. This same process can be used for fading the scars caused by acne.
Dry Shampoo: Instead of spending tons of money on dry shampoo, sprinkle a little baking soda at the root and tousle your hair. The result is the same for a fraction of the cost.
READ ALSO: 6 Ways To Get A Radiant & Beautiful Skin On Your Wedding Day
Natural recipe against dark circles and bags under eyes: Pour a little hot water or chamomile tea in a glass and add a teaspoon of baking soda. Dilute it, then carefully dip cosmetic cotton ball, place it under the eyes and let it stand for 10 to 15 minutes and you will notice incredible results.
Nail Treatment: Use baking soda to both whiten your nails and exfoliate the cuticles. For healthy cuticles, dip a nail brush into a paste made from baking soda and water. Rub this in a circular motion over the hands and fingers and rinse off. Those with yellow nails – caused by too much bright nail polish – can blend baking soda with the juice of half of a lemon and apply to the nails. While the lemon serves to lighten and nourish, its acidity means it is best avoided if your hands have cuts or scrapes!