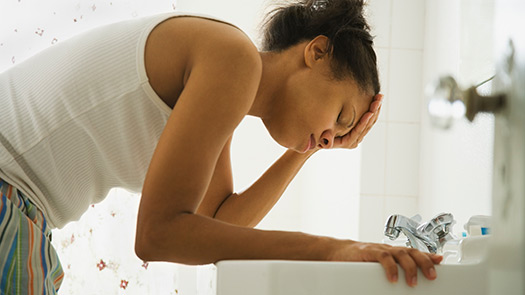 Your kidneys most important organs in your body, responsible for filtering waste, producing red blood cells, and even keeping your bones strong and sturdy. However, despite the vital role they play in keeping us healthy, many of us don't realize signs that they're not living up to their full potential until it's far too late. Here are signs which indicate that your kidneys are not working properly.
Trouble sleeping: When your kidneys are not functioning properly, it means that toxins cannot exit the body through urine and remain in the blood. Increased level of toxins make it hard to fall asleep. That's why when you get less sleep, you increase the chances of kidney function decline.
Headaches, fatigue and general weakness: Healthy and properly functioning kidneys convert Vitamin D in our bodies to maintain strong bones and to produce a hormone called Erythropoietin (EPO). This hormone plays an important role in the production of red blood cells. When kidneys don't function properly, they produce less EPO. The decline of red blood cells (those that carry oxygen) results in rapid fatigue of your muscles and brain.
READ ALSO: 3 Simple Things To Do If You Really Want To Lose Weight
Changes in urination: Your kidneys are responsible for producing urine and eliminating waste through it. Changes in the frequency, odor, color and appearance of urine should not be ignored.
Having dry and itchy skin: Healthy kidneys do tremendous work by removing waste and extra fluid from the blood, helping produce red blood cells, and maintaining the proper amount of minerals in your body. Itchy and dry skin signal the failure of kidneys to maintain the right balance of minerals and nutrients which can result in bone and kidney disease.
Experiencing bad breath and metallic taste: When waste builds up in the blood, it changes the taste of food and leaves a metallic taste in your mouth. Having bad breath is another sign of having too many toxins and contamination in the bloodstream. Furthermore, you may stop wanting meat and lose your appetite in general, which can lead to unhealthy weight loss.
Puffy eyes: An early sign that your kidney's filter system is damaged is the onset of protein in the urine, which can result in puffiness around the eye area. The puffiness around your eye can be explained by the fact that your kidneys are leaking a large amount of protein into the urine rather than keeping it and distributing it throughout the body.
Shortness of breath: The relation between kidney disease and experiencing shortness of breath, especially after little effort, is caused by two factors. First, extra fluid in the body moves into the lungs when kidneys are not functioning properly. Second, anemia deprives your body of oxygen and this results in shortness of breath.
Swelling in ankles, feet and hands: Kidneys that are failing to perform properly don't remove any extra fluid from the body. This leads to sodium retention which causes swelling in your ankles, feet and hands. Swelling of the lower parts of your body can also signal heart and liver disease or leg vein problems.
READ ALSO: Dope Ways To Upgrade Your Ponytail Slay
Having back pain: Kidney failure can result in back pain that is usually deep and located right below the rib cage. It can be felt in the front of the groin or hip area. Back and leg pain can be caused by kidney cysts, which are large fluid-filled sacs formed on the kidney, and are the result of polycystic kidney disease.